A complete guide with the best things to do in Santiago, Chile and tips on how to get there, how to get around, how many days to stay and much more!
Santiago is the capital of Chile and the largest city in the country, considered a financial center and an important tourist destination, it is also the gateway to reach further places such as the Atacama Desert, Andean Lakes and the Chilean Patagonia, for example. Besides being beautiful, Santiago is very easy to walk around and has several attractions.
In this complete guide, we will share everything you need to know to plan your trip to Santiago, from where it is located, why and when to visit, what currency they use, to the best things to do.
Why you should visit Santiago, Chile
Here are the 6 main reasons to visit Santiago in Chile:
When approaching Santiago by plane, the pilot himself will warn you to look out the window, and here's the first reason you should visit this city: the Andes Mountains. This wonderful view can be seen all the time from Santiago, all you need to do is to look at the horizon or from one of the viewpoints of the city. In fact, the viewpoints are some of the several attractions in Santiago. The most famous are Cerro Santa Lucía and Cerro San Cristóbal.
It is very easy to walk around the city, which is predominantly flat, and has efficient public transportation. Santiago is, with no doubt, very well prepared for tourists.
The Historic Center of Santiago stands out with its architecture, museums and boardwalks. Make sure you watch the changing of the guard at Palácio de La Moneda, which is where most of the free walking tours start.
Chile is famous for the quality of its wines and there are several wineries close to Santiago, including Concha Y Toro which can be visited by subway.
In about only one hour away, you can reach the coast. You can take a day trip to visit Viña Del Mar and Valparaíso.
You can also take a day trip to snow parks nearby to practice skiing, snowboarding or simply to play in the snow.
Make sure you get a travel insurance!
Here is why we recommend SafetyWing Travel Insurance.
What you need to know about Santiago in Chile
Where is Santiago, Chile?
The city of Santiago is located in Chile, South America.

Where is Santiago on the map:

How to get to Santiago, Chile?
There is only one airport in Santiago, the Arturo Merino Benitez International Airport (IATA: SCL), and to reach it from Miami, for example, it takes about 8 hours in a direct flight.


What currency is used in Chile?
The Chilean Peso (CLP) is their official currency and it can be easily found in exchange offices in Santiago. There is a concentration of exchange offices on Augustinas street, in the central region, which facilitates the quotation comparison. The ideal is to take a small amount of Chilean Pesos for initial expenses and exchange the rest at the destination. Dollar and Real are also accepted in some places.


How is the weather in Santiago, Chile?
The weather in Santiago is classified as Mediterranean: defined seasons with dry and mild summers, and very cold and rainy winters.

Weather in Santiago:

When to visit Santiago, Chile?
The best time to visit Santiago varies according to the traveler's objective.
The high season in Santiago is in the winter. Although there is no snow in the city itself, it snows in the mountains that surround it, so the nearby ski resorts are white and receive a significant number of tourists.
Spring runs from September to December, with warm days and cooler nights, making it a pleasant time to visit attractions that do not open during the winter. The closer to December, the more the temperature rises and it means summer is coming soon.
Summer in Santiago is relatively hot for a place where temperatures can reach zero degrees Celsius, but there is almost no rain. Ideal for those who want to enjoy wineries and nearby beaches.
After the summer, we have the autumn, a beautiful season with different landscapes in parks, but with greater temperature variation during the day and depending on the year, the ski season may start at the end of this quarter. For those who like to travel to cooler places but without snow, this is the ideal time.


How long to stay in Santiago, Chile?
To be able to visit the main sights of Santiago and its surroundings, the ideal is to stay there for at least 4 or 5 days. Keep in mind that to visit snow attractions and some wineries you will need a full day.


Is Chile safe?
Normally when we travel we leave a little aside the concerns of our daily lives but, although Santiago is considered safe, it is a city with more than 5 million people and just like any other big city in the world, you need to be careful.
The common taxi scams happen when you deliver a high-value bill to the taxi driver and while you wait for the change, he swaps your note with a counterfeited one, or when he pretends that you gave him a smaller note instead. Try to pay taxi drivers with small notes and count them in front of him. Also, make sure you agree on a price before getting in and check the trip costs on apps, to have a cost estimate.
Pickpockets occur more frequently on public transportation, so avoid peak hours when it gets easier for thefts due to the number of people. It is also safer to keep your belongings in front of you. This also applies to your drink, so always carry it in your hand and keep it at your sight, in addition, never accept drinks from strangers.


What to pack for Santiago?
The items may vary according to the season. During the summer you can take lighter clothes and accessories with you, although it is always good to bring a jacket for the evening or early morning. If you go on a hike, don't forget to bring comfortable clothes and hiking boots. If you travel to Santiago during the winter, make sure you bring clothes and accessories for snow, dress in the 3 layer system and use waterproof fabrics.



Get your Columbia Sportswear discount code*
* Available in certain markets and periods only.
How to get around in Santiago
Using public transportation is a good way to get to know the destination. Santiago has a very good subway, train and bus structure and its systems are integrated, so with a rechargeable card you can use different types of transportation by paying less than the full fare between them.
Another option is to join a City Tour, which is usually a walking tour through different points of interest and with a lot of local information. In general you can find Free Walking Tours, but in the end it is polite to tip the guide in case you enjoyed it.
Santiago also has app drivers, in addition to taxis. One addendum: if you use taxi, combine the rate before the ride and always try to give the exact amount. Unfortunately, the scam of malicious taxi drivers is common. If you prefer to rent a car, you can do it at the airport or in other parts of the city. Get a car rental deal here!
As it is a tourist city, usually you can arrange tour packages and transfers to several attractions in the hotel.
The best things to do in Santiago, Chile
The city is full of attractions. Find below what are the best things to do in Santiago:
Plaza de Armas and the Metropolitan Cathedral
The main square of downtown Santiago is called Plaza de Armas and it is where the city was founded, in 1541. With several trees, statues and historic buildings around it, there you will also find the Santiago Metropolitan Cathedral, from 1748, which is beautiful and rich in details making it even more interesting to be visited.
Central Market
In San Pablo street, nearby to Plaza de Armas, is the Central Market of Santiago, where the main products are fish and seafood but you can also find peppers and typical spices. In this market there are also a variety of restaurants and the typical dish of Santiago, a king crab called centolla.
Pre-Columbian Art Museum
Also close to Plaza de Armas, there is the Museum of Pre-Columbian Art, and honestly it is really worth visiting. It has a well preserved collection, by which it is possible to better understand the customs and culture of the ancient people who lived in Central and South America. It has three floors and the admission is free on the first Sunday of each month.
National Museum of Natural History
Still in the center of Santiago, the National Museum of Natural History tells the story of the country's fauna and flora, including Easter Island, featuring up replicas of animals that once inhabited the region, being the highlight the skeleton of a whale and the lyophilized body of a little boy from Cerro el Plomo, an 8-year-old child offered as a sacrifice more than 500 years ago. Admission is free.
Palácio de La Moneda
One of the most visited attractions in Santiago is Palacio de La Moneda, which was designed to be the Chilean Mint and is currently the headquarters of the Presidency of Chile. Palacio de La Moneda was the scene of some of the country's historical events, it can be visited on a free guided tour and the highlight is to watch the changing of the guard (Chilean Army).
Santiago cable car
The Santiago cable car is one of the oldest attractions in the Metropolitan Park. The cable car has 46 cabins with capacity for 6 people and with bicycle support for those who want to ride through Cerro San Cristóbal (Cumbre station) which is its final destination, after passing through the Tupahue (access to the public swimming pool) and the Oasis (exit from the closest park to Shopping Costanera).
Cerro San Cristóbal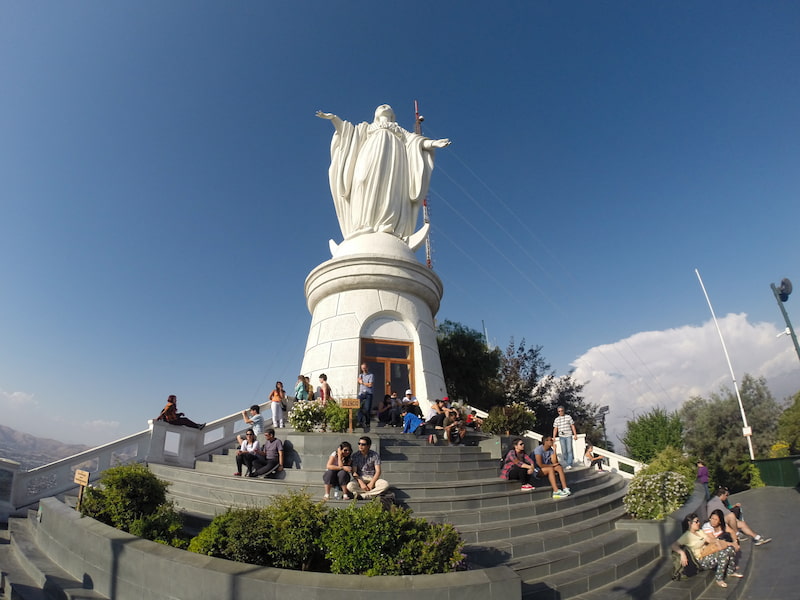 The Cerro San Cristóbal is the highest point of the city and it is located inside of the Metropolitan Park, a 300 m high natural viewpoint that can be accessed in different ways; on foot, by bike for free, by car, cable car or funicular. Besides the view, the park has several attractions such as the Sanctuary of the Immaculate Conception at the highest point, public pools, japanese garden and the Mirador & Pablo Neruda Amphitheater.
La Chascona
La Chascona, the house-museum of Pablo Neruda, is a must-visit for anyone who enjoys culture, poetry and love stories. It is located in the Barrio Bellavista, at the base of Cerro San Cristóbal. The house-museum guard, as well as personal objects of the poet, a collection of African artifacts and a collection of works by artists. La Chascona means, in Quechua language, 'tangled / disheveled', in reference to Pablo's lover, for having red and 'unruly' hair.
Sky Costanera
Holding the title of highest viewpoint in Latin America, Sky Costanera stands out in the landscape of Santiago. The lookout is at the top of the Gran Torre Santiago, which is part of the complex where the Costanera Center Mall is located, and provides a 360º view of the city at 300 meters high, with legends on the glass windows referring to the places that are being viewed. Tickets are sold only at the box office or in advance through a travel agency.
Cerro Santa Lucía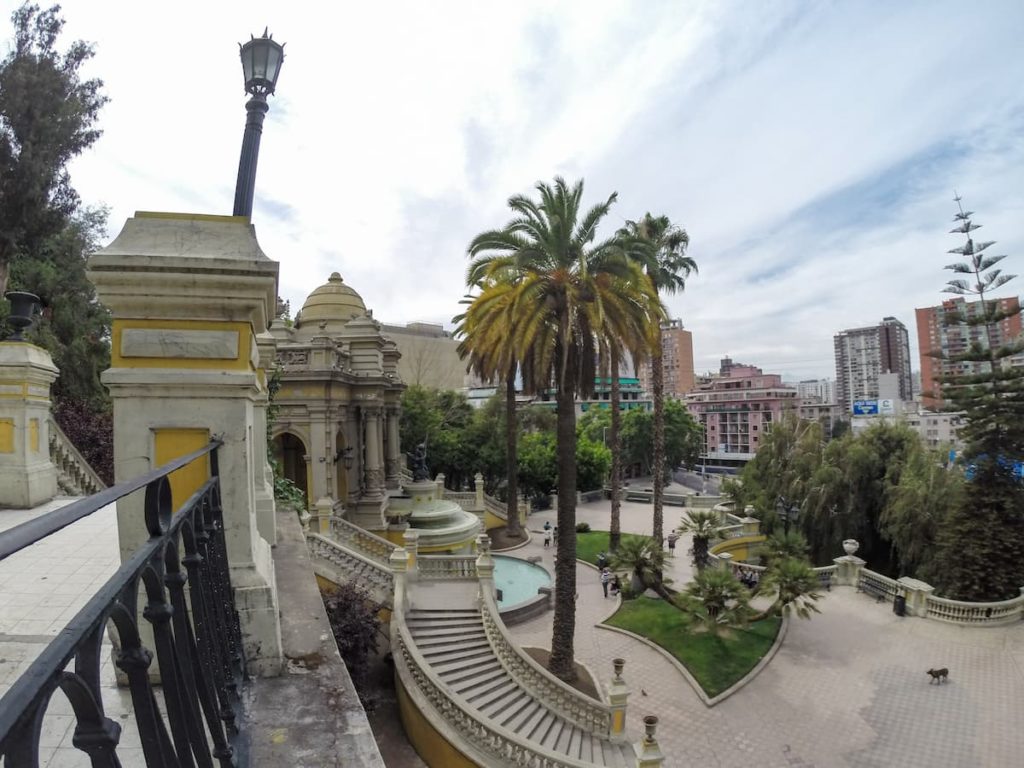 Climbing this 70 meter high hill in the middle of Santiago will require breath on the stairs but the view from Cerro Santa Lucía is worth it. Located between the subway stations Santa Lucía and Catholic University, it is a lovely park with buildings dating from 1872 and great for those who enjoy taking beautiful pictures. This is also a free attraction.
Museum of Memory and Human Rights
Inaugurated in 2010, the Museum of Memory and Human Rights has eleven rooms spread over three floors that, through photos, videos, letters, testimonies and journalistic materials, tell how the period of the dictatorship in the country was. A meaningful and touching visit that invites reflection on human rights. Free entrance.
Gabriela Mistral Cultural Center
The Gabriela Mistral Cultural Center (GAM) is another famous building in Santiago due to several changes in the socio-political scenario of the country. After a fire in 2006, it was renovated and returned to the population as a cultural center in 2010. The central square is already an invitation to breathe culture, with colorful stained glass and a curious piece of a giant fish hanging from the ceiling. GAM hosts theaters, dances, cultural events and permanent and temporary art collections, which can be accompanied by the local program. Access to the building, BiblioGAM, Visual Arts Room and American Folk Art Room is free.
Barrio Lastarria
The bohemian side of Santiago can be seen in Barrio Lastarria both in the afternoon and at night, it is close to Cerro Santa Lucía and can also be accessed through a side passage of the Centro Cultural GAM. As the architecture of the buildings has been preserved, walking around the neighborhood gives the feeling of being in Santiago from the past. The main street in this neighborhood is Calle José Victorino Lastarria, where cafes, bars, galleries, a cinema and restaurants for any taste are concentrated. Much can be seen here, from murals and graffiti to street performers, plus a crafts fair with books, antiques and souvenirs.
Tours near Santiago
Beyond these attractions in the city, there are tours near Santiago that are feasible due to the possibility of taking a day trip:
Valparaíso
Valparaíso is a port city 120 km from Santiago, among the local attractions, highlight the historic neighborhood with colorful zinc houses, which were listed as patrimony by Unesco. Tours with lifts or funiculars provide great views of the sea, handicraft market, one of Pablo Neruda's three houses: Casa La Sebastiana, hillsides full of colorful graffiti and charming restaurants. Some people combine Valparaíso and Viña del Mar on the same day.
Viña del Mar
Next to Valparaíso, there is Viña del Mar, this seaside town that offers far more than their cold water beaches. There are restaurants specializing in fish and seafood, Casino, Botanical Gardens, Museums – one with a Moai statue of Easter Island in front (the only one off the island) – Quinta Vergara Park with its gardens, interactive museum and Palace that was residence of the city's founder. There is also a Flower Watch and even a castle – Wulff Castle, dedicated to artistic exhibitions.
Cajón del Maipo
The Cajón del Maipo Region is made up of small towns, such as San José de Maipo, which grows around the main square with a church, but surrounded by the mountain range. The landscape is beautiful no matter where you look. You can perform trekking, horseback riding, among other activities in the region. It is also a strategic stop to stretch your legs, eat something and know a little of the place before arriving in Embalse El Yeso.
Embalse el Yeso – The Dam
Embalse el Yeso is 2,500 meters above sea level and is a dam that receives melting snow from the surrounding mountains and supplies Cajón del Maipo and the entire city of Santiago.
Depending on the light, the water is emerald green or a wonderful blue. The water dammed form a mirror of the surrounding mountains with their peaks full of snow.
Termas de Colina
In the middle of the Andes Mountains, in the same valley of Embalse el Yeso, there is an oasis called Termas de Colina – or Baños Colina – with its 7 thermal water pools that vary between 30ºC and 60ºC, due to the volcanic activity of the region. It has a basic structure, without snack bars or restaurants, but it is certainly worth the visit whether to relax in the pools overlooking the mountains, watch the sunset and / or camp.
Valle Nevado
Valle Nevado is the most famous ski resort among tourists, due to its proximity to Santiago and a great infrastructure on site, both for learning and practicing skiing, snowboarding and staying. Yes, it is possible to stay in one of the hotels inside and have access from restaurants, bars, mini markets and swimming pools.
Farellones Park
To get to Farellones Park there are 40 sharp curves up the mountain and it is a little before Valle Nevado. The scenery on the way and in the park itself are gorgeous.
In this park, in addition to skiing, you can snowboard and participate in numerous activities to snow such as sledding, ziplining, biking, down in the snow with buoys in groups or alone, among others. The purchase of the advance ticket with the agency makes all the difference to speed up the entry.
Portillo
The Portillo ski resort is located in Los Andes, about 160 km from Santiago and, being a little more distant compared to other stations, it is ideal for those who prefer less busy places. It has a good structure and 35 tracks that are open every day of the year.
Andes Mountain Range
One of the largest mountain ranges in the world passes through Santiago and, as previously mentioned, the Andes Mountains Range are visible both during the arrival flight and through the viewpoints in the city itself: Cerros Santa Lucía and San Cristóbal and the Sky Costanera. It can also be accessed by ski resorts on the outskirts of the Chilean capital during the winter or, when they are snow-free for other activities such as cycling and horseback riding.
Wineries in Santiago and Region
It is practically impossible not to think about wine when talking about Chile and the different wineries in Santiago and region are proof that making wine is part of the local culture. Some are closer and more famous, others more exclusive but equally excellent for any drink lover or not.
Undurraga
The beautiful Undurraga is a winery that will surprise you for having a room where you can feel all the possible aromas existing in a wine and depending on the period of the visit, you can even participate in the production process, in addition, of course, the wine tasting. The 1855 winery is still managed by the founding family.
Santa Rita
Founded in 1880, Santa Rita is a winery that has maintained the high standard of grapes since its emergence and it is linked to Chile's wars of independence, which is why it is considered a national monument. A guided tour is essential to know all the details, such as the 120 soldiers who hid there during the war. There are 9 types of tours available in several languages, including Portuguese.
Concha Y Toro
The Concha y Toro winery is the most visited in Santiago, it is possible to get there by public transport. With guides in English, Spanish or Portuguese that will take you for a walk between the wine cellars, including the famous Casillero del Diablo, and wine tasting along the way.
Alyan Sunset
Located in the Valle del Maipo, an hour from Santiago, the Alyan Sunset winery is less known among tourists, which makes the visit even more special. Are the owners themselves accompanying the tour of this boutique wine from the vineyards, buildings and bodega with wine tasting and meal on the balcony. As it is an exclusive tour, it is not part of mass tourism, and it is possible to find this and other tours to several wineries at 321 Chile, which specializes in experience tourism and wine tourism.
What to do in Santiago at night
Here are some tips on what to do in Santiago at night: Pátio Bellavista is a great option for both day and night, there are several options for bars and restaurants, including Bar S33W70. Other bar options are The Clinic, Ópera Catedral, Room 09 or Flannery's. For night clubs the best known are Whiskey Blue, La Urracas and Club Chocolate.
What to do in Santiago with rain
There is no shortage of options for things to do in Santiago with rain: visit and have lunch at the central market, visit a Museum: Pre Colombian Art, Interactive Mirador, Bellas Artes or National Natural History, take a guided tour at Casa de La Moneda and even a few purchases at Shopping Costanera or Mall Sport.
What to do in Santiago in the Summer
Some suggestions with what to do in Santiago in the summer: city tour, visit wineries and their harvests, relax in the natural pools in Termas de Colina, see Santiago from the top of Cerro Santa Lucía or Cerro San Cristóbal and also enjoy the pools from up there, visit the beaches in Viña del Mar and Valparaíso.
What to do in Santiago in the Winter
There are several options for what to do in Santiago in the winter, practically all attractions are open but the highlight is the activities that involve snow, such as skiing, snowboarding and playing in the snow at one of the ski resorts, visiting the Embalse el dam Yeso, which has even more beautiful landscapes with snow. In addition, during this period you can also go wine tasting, visit museums, lookouts and walk on a free city tour.
Get your Columbia Sportswear promo code*
* Available in certain markets and periods only.
So, are you ready for a trip to Chile and its capital? If you have any questions, comment here. 🤗
Read more: