The best tips and options for women's, men's, and children's hiking clothes.
We, travelers, love hiking around the world. One thing we must remember is that, as we need appropriate clothing to practice sports such as cycling and diving, we also need adequate hiking clothes to ensure our comfort and safety.
Some items are indispensable for our adventurous style, while others can offer us a better performance and allow us to go further, enjoying each step of the journey.
Join us throughout this article and find out the basic clothes and accessories you need to hike, regardless of the weather and difficulty level. In the end, we'll answer some frequently asked questions and share some hiking outfits for women, men, and kids from Columbia Sportswear, the brand we wear on our travels, and also has been supporting us by sponsoring this post.
Let's go?!
Hiking clothes and accessories that you cannot miss in your suitcase
When practicing any adventure sport we need clothes that offer greater comfort and safety. When it matters to hiking clothing and accessories, some items are a must-have:
Hiking Shoes
Meet the main types of hiking shoes:
Hiking Boots
This, in my opinion, is the main investment a hiking fan should make. I speak from my own experience, as I have already had to dispose of a brand-new pair of gym shoes after some hiking in Petar (SP). The sneakers I had were bad? No. The problem is that they have not been developed for that purpose.
Besides the durability of Columbia's hiking boots, which make the financial investment worthwhile in the medium/long term, they have features and technologies that help us prevent accidents and discomfort.
To reduce the possibility of slipping on the trail, Columbia has Omni-Grip™ technology, which offers a better shoe grip on most different types of soil. Techlite™ technology features an ultra-lightweight midsole offering greater comfort, ensuring ample impact absorption and energy return. Also, it is antimicrobial, that is, it prevents the proliferation of bacteria and unwanted odors. No more stinky feet! 😅 Omni-Tech™, on the other hand, guarantees the waterproofing and breathability of the hiking boots, which means your feet won't be sweating inside the shoes, and they won't get wet if you happen to step in a puddle.
Some shoes may be more appropriate for waterfall hikes, others for snow, but there are also some super versatile options. I ended up choosing the Columbia's Dakota™ Women's Boots Drifter Mid Waterproof because they're light, breathable, and waterproof (which is essential!). They also have medium uppers to avoid twisting and a beautiful and discreet design in case I need to wear them on a rainy day in the city.
Hiking Sandals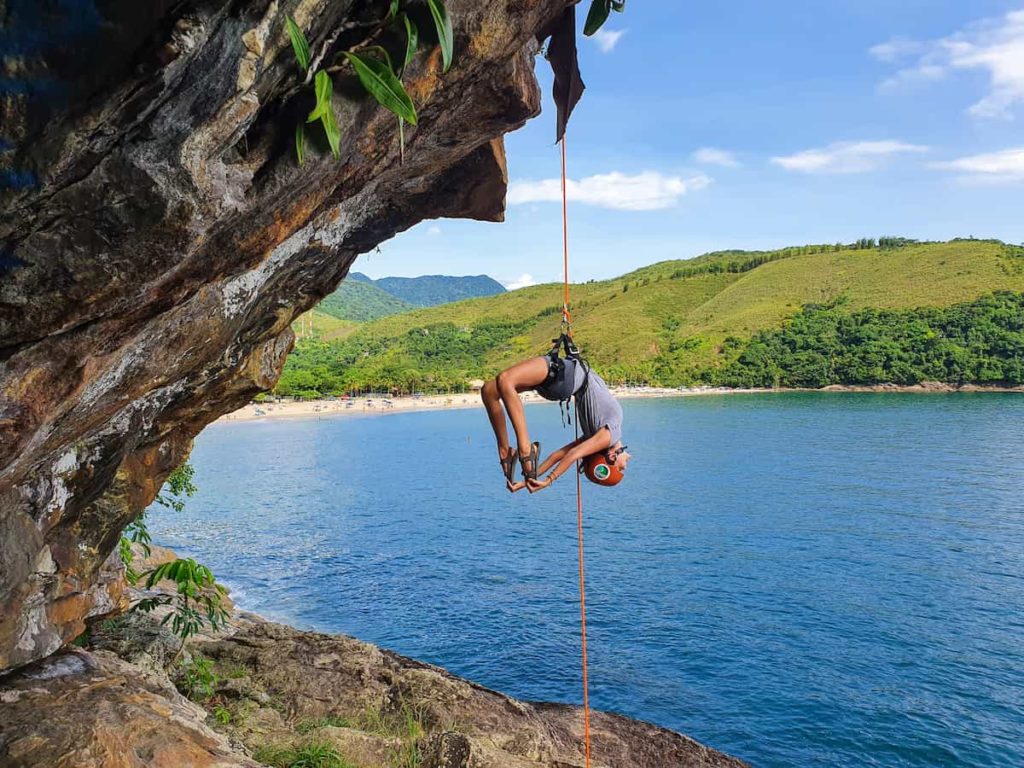 Sandals are ideal for shorter and smoother hikes, destinations with waterfalls, and days of intense heat. I own these women's hiking sandals that accompanied me in Acre, both in the midst of Cruzeiro do Sul's nature and in the urban areas of Rio Branco. Some of the advantages of having a pair of sandals are super fast drying and great comfort on smooth hikes or when doing a city tour. They're also safe to walk on the most diverse surfaces due to the sole and are easy to put on and take off.
Hiking accessories and equipment
A hat, hiking socks and a hydration pack will also make great adventure companions. Below, we detail the importance of each of these items:
Socks
There's no point in having breathable hiking boots if your socks aren't. Appropriate hiking socks are essential as they help prevent blisters. They also last much longer than traditional socks, so despite the higher price, the investment is worth it in the medium/long term. To give you an idea, I don't buy common socks anymore: I have only a few pairs, but they last a long time, dry quickly, and take care of my feet on walks. =)
Cap / Hat
Protect your face from the sun, so you don't get attacked by melasma like I was from lack of care. Nowadays, it's possible to find different types of caps and hats with sun protection. Invest in them! The one in the photo is the Columbia W Silver Ridge™ Ball Cap. It has a 30 sun protection factor, and it is resistant to rain and stains.
There are also caps with technologies that activate the fabric's cooling through sweat and dissipate perspiration, always making the cap always dry and giving a pleasant and comfortable feeling.
Hiking backpacks
Hiking backpacks are a must-have, especially the ones with a compartment to add a hydration bag. You can choose small backpacks, around 25/30 liters for day hikes, or larger backpacks, over 50L, for when you go camping along the way. When it comes to the little ones, check the compartments: I love it when they have pockets on the waist straps: there, I can keep tissues, hand sanitizer, and lip balm within easy reach. For the big ones, avoid those that don't have a zipper in the middle, the ones that look like a bag, you know?! It makes it very difficult to find items inside.
I have Columbia's Shadow Falls™ II Hydration Backpack, which has become my favorite. Even if it's compact, I manage to slip my Canon camera in there, hang my shirt or flip-flop on the side buckle, and I find it cool that it has a whistle in one of the buckles to use in case of emergency.
Hiking Clothes
Hiking clothes should always be comfortable, breathable, and appropriate for the local climate. When it comes to summer clothes, choose those that are light, dry quickly, and have sun protection. If you're going to venture into a cold place, it's best to dress in layers, as we explained in an article about clothing for winter travel.
Among the essentials for your adventure are:
Shirts and T-shirts with sun protection
T-shirts and shirts with UV protection are excellent companions for hikes and many other situations in a traveler's life. If you're a backpacker, then at some point, you must have regretted having sunburned your shoulders and then having to carry a backpack (oh, how it hurts!). The most important thing for fans of outdoor activities is that this item helps protect the health of your skin. Columbia's Omni-SHADE™ technology offers fabrics with a sun protection factor of 30 to 50.
Our partner brand's technology for outdoor clothing doesn't end there! Did you know that there is a fabric that, when in contact with sweat, causes a refreshing sensation? That's what Omni-Freeze™ t-shirts do. Columbia's Omni-Wick™ technology ensures sweat dispersion and makes clothes dry faster.
There are several short or long-sleeved options in the most diverse colors and models.
Fox's Tip 🦊: After testing different types of sun protection t-shirts, I realized that I like the Neblina model better in situations when I need it to dry more easily and Zero Rules for extremely humid places where I sweat a lot.
Hiking pants
Do you know convertible pants? It's a pair of trousers which you can remove the bottom parts and turn this piece into shorts. It's a very practical and versatile item to wear, especially on long hikes, where you can face various environments and temperatures in a single day.
When looking for hiking pants, choose models that are waterproof and quick-drying. It makes a lot of difference! Among Columbia's options, many of them are even tear resistant.
Another option, which is often women's favorite, is legging pants. There are some shorter models, others longer – these are usually better options as they do not leave that unwanted sun mark in the middle of the calf, offering complete protection against scratches from branches. The leggings in the photo are Columbia's Women's Windgates™ II Pants, I've already tested them, and I can assure you that they're super comfortable, don't get hot, and the best: the fabric weft is narrow, so even when squatting, you can't see through them. 🙌
Another advice is to look for pants with pockets, preferably with a zipper. When hiking, it's important to keep our hands free so that we can hold ourselves if we slip, but we'll probably want to have our cell phone within easy reach to record moments of the journey. At these times, pockets are very useful. By the way, the leggings in the photo above have a side pocket that perfectly fits a mobile phone.
Hiking jackets
Have at least one windbreaker & rain jacket! Choose a lightweight model that you can wear both in the heat and over winter sweaters. This key-piece will help you if it starts raining during the hike. Look for an option with a hood and sealed zipper that is breathable, so you don't get too hot. I have Columbia's Evapouration™ waterproof jacket that, besides having colors that stand out in the woods, it has Omni-Tech™ and Omni-Wick™ technologies.
For cold days, the fleece jacket is a great company: it's the second piece used in the layering system to dress in winter and among its advantages are lightness, comfort, easy drying and, of course, the fact that it heats up very well! I currently count on a model from the Fast Trek™ and another from Ali Peak™. In extreme cold destinations, plume jackets will be necessary.
FAQ – Hiking Clothes & Outfits for Men, Women, and Kids
Find Columbia Sportswear promo codes here.
x.o.x.o
Elaine
Read as well: