The best things to do in Maresias, how to get there, nearby beaches, where to stay and much more!
Maresias is a district of São Sebastião city and its beach is considered one of the most beautiful beaches on the north coast of São Paulo State in Brazil. Although it is a world-famous destination for the surf championships and its active nightlife, Maresias has much more to offer.
On one side the forest and on the other, the sea. Did you know that São Sebastião city has more than 30 beaches and has 70% of its territory on the Serra do Mar State Park? Surrounded by the Atlantic Forest, Maresias brings access to ecological diversity through trails, waterfalls and natural formations.
Get ready to know Maresias in a way that even most Brazilians have never seen before! In this article we will give you tips about what to do in Maresias, how to get there, when to visit, where to stay, we will tell you about some of the beaches in the region, and much more!

Where is Maresias located?
Maresias is located 160km away from São Paulo city (the capital of São Paulo State), 100km from Ubatuba, and 25km from the center of São Sebastião, on the north coast. A lot of people think that Maresias is a city, but it is actually a neighborhood.
Where is Maresias on the map:
How to get to Maresias, Brazil?

Airport
There are no airports nearby, however if you are from another state or country, the closest airports to Maresias are: São José dos Campos Airport (SJK), 134 km away; Guarulhos International Airport (GRU), 152 km away; and Congonhas Airport (CGH), 174 km away.
From any of them it will be necessary to travel to the city of São Sebastião by land. You can either rent a car or take a bus.
LMTM Tip: At Guarulhos Airport, there is a bus line called Pássaro Marron which takes you directly to Maresias beach.
How to get to Maresias by bus
From São Paulo city, the easiest way to get to Maresias is from Tietê station with Pássaro Marron's bus. But pay attention when selecting the destination option and make sure you choose São Sebastião – Maresias line, this one passes by the beach avenue, while the others will leave you in downtown São Sebastião, which is 27 km away from Maresias.
Depending on your starting location, you may not be able to locate the São Sebastião – Maresias option on the bus ticket online platform. If so, just search for São Sebastião and when you get there, take a local bus, a taxi or an Uber.
How to get to Maresias by car
Access from the capital or from Guarulhos to Maresias can be done through the Presidente Dutra or Ayrton Senna highways, but the main access to the North Coast of São Paulo is through the Tamoios Highway that connects São José dos Campos to Caraguatatuba.
The roads are excellent and the trip by car is very smooth. The journey usually takes about 3 hours from the capital, except for holidays, when traffic jams are usually kilometers long and it can take long hours.
An alternative in case of heavy traffic is the Mogi-Bertioga Highway (SP-098) followed by Rio-Santos, which passes along the coast of São Paulo. Although the path is longer, there are very beautiful views along the way.
Important! All of the roads have many radars and tolls. Stay tuned!
How to get around in Maresias
If you are close to the center, you can do everything on foot. But if you are closer to Canto do Moreira (extreme right side of the beach) you need to use a car, transfer, bus or bicycle.
Bear in mind that there is no Uber in the region, so you cannot count on this alternative. If you need, check with your accommodation if they can share any transfer recommendation or book a transfer directly with MaresiasTur.

When to go to Maresias, Brazil?
Maresias is a good beach destination to visit throughout the year, but we will detail a little bit more about the weather and seasons below:

The weather in Maresias
The region has a mild climate and it is ideal for those who do not like extreme heat or cold. The warmest month of the year is January, with an average temperature of 26°C. However, the period is also the wettest, with an average of 239 mm of precipitation.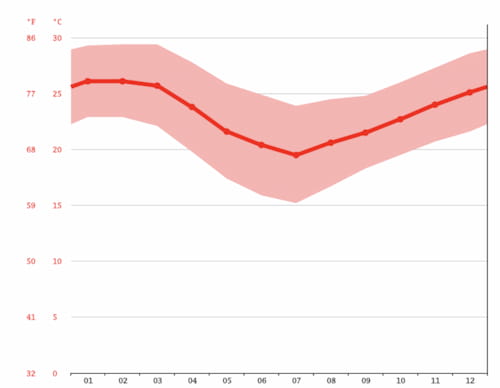 High season
If you are looking for a lot of fun, the ideal is to go to Maresias during the high season which is marked by the summer months, holidays and all the long weekends throughout the year. You will find a very lively nightlife with parties almost every night in the bars and nightclubs. It is worth remembering that the beach is very crowded in this season, especially at entrances of number 1 and 10.
However, if you are there during the high season and still want a quieter place to spend the day on the beach, our recommendation is that you go to Canto do Moreira, which is a much more reserved area.
If you want to travel to Maresias between New Years and Carnaval make sure you plan it in advance to avoid traffic and the high accommodation prices as it will be receiving a huge number of tourists.
Low season
During the low season you will find empty beaches, quieter roads and cheaper accommodation prices. If you find out that it's going to be sunny there, just go down to the coast and enjoy several things to do in Maresias!

Surf season in Maresias, Brazil
If you like surfing, Maresias is always a good choice! But, it is during the winter that the big riders of the country gather with a lot of disposition for the giant waves. And you can be surprised by the winter in Maresias, as some of the weeks between June and August can reach up to 30°C. Rain can also happen, of course, but it is not common at this time of year.

How many days to stay in Maresias, Brazil?
If only want to enjoy the beach and the nightlife, a weekend is enough. However, if you want to get to know the region more calmly and visit incredible and little-known places that we will show you and recommend below, you can stay up to 7 days without repeating any activity.

The best beaches in and around Maresias, Brazil
Although Maresias is the main attraction of São Sebastião, the city and its surroundings have more than 100 km of coastline, which guarantees other alternatives for those who would like to explore other beaches. Find some options below:

Maresias Beach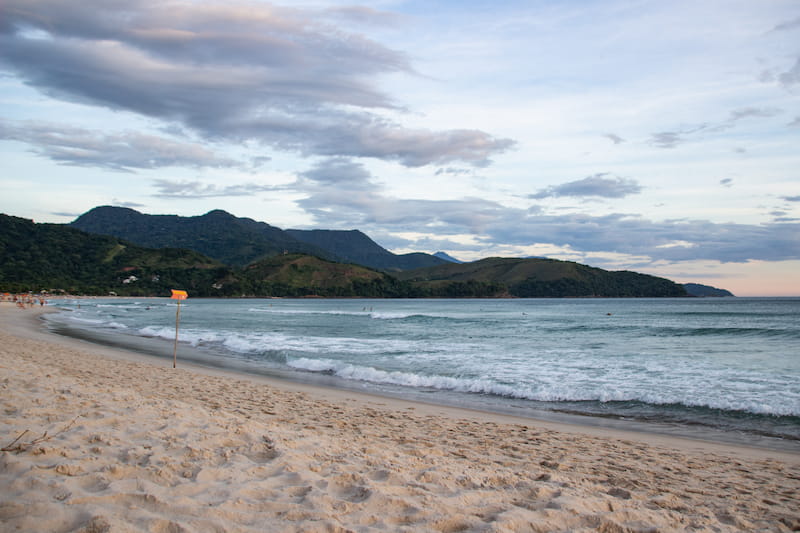 Approximately 5 km long, Maresias beach (Praia de Maresias in Portuguese) is waiting for you with a blue sea and big waves!
The left corner is called Canto da Barra, and the right, Canto do Moreira, which is more peaceful and has natural pools.
Maresias has a good tourist infrastructure with bars and restaurants, hotels, hostels and campsites. And for those who like beach service, this is not a problem. It's easy to find tents with local food, beachfront restaurants, sunbeds for rental and so on. Just come and relax!
LMTM Tip: In Maresias beach, besides surfing, you can also practice slackline and enjoy a beautiful sunset.

Paúba Beach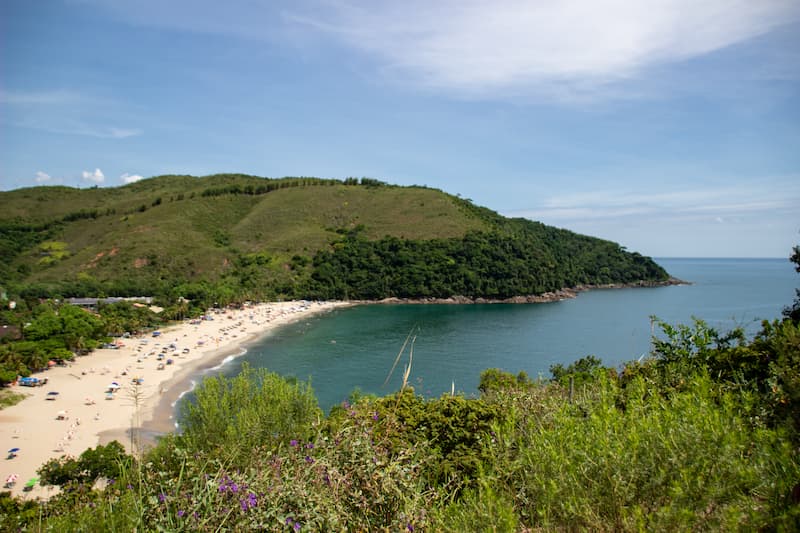 For those who want to get away from the hustle and bustle of Maresias, Pauba beach (Praia de Paúba) is a great option. As it is further from the highway, the beach has a more preserved look surrounded by the forest.
Paúba beach is 3.5 km away from Maresias beach, and you may park your car along the residential streets. On the beach you may also find local merchants.

Praia do Saco / Praia dos Pescadores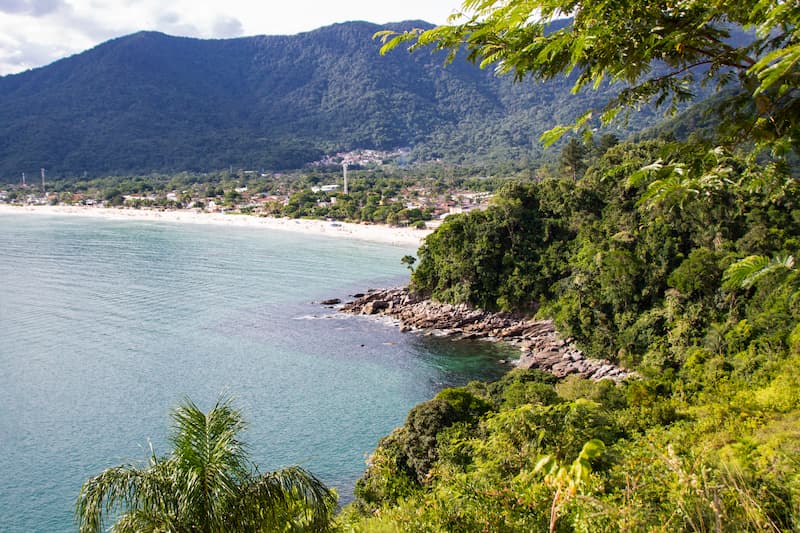 Praia do Saco, also known as Praia dos Pescadores by the "caiçaras" (native people), is a more deserted beach that is hidden between Maresias and Paúba beaches.
You can reach it by a small trail easily accessible through any of the two beaches. I recommend taking snorkeling accessories with you as it is very possible to see turtles and a lot of marine life there.

Calhetas Beach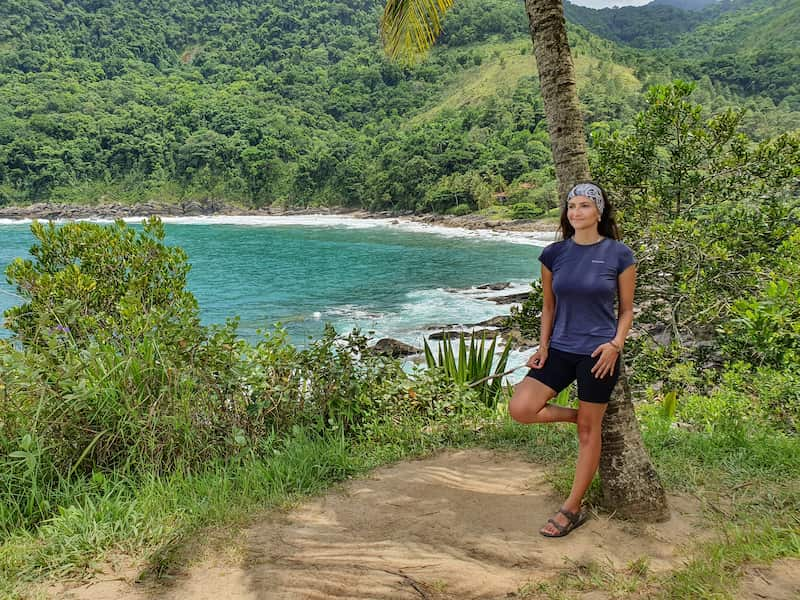 It's kind of a deserted beach with an incredible viewpoint as it lies between Toque-Toque Grande and Toque-Toque Pequeno beaches.
Access to Calhetas Beach (Praia de Calhetas) can only be done on foot. Since there is one private property there, vehicles are not allowed to get in. A curiosity is that this access was only open to the general public in 1988, after the approval of a law that prohibits the restriction of access to any beach in Brazil, since all of them are public.
The trail to access the beach starts on the highway, is easy and it lasts about 10-15 minutes, but it is worth saying that it takes a little bit of disposition on the way back as it has a ramp (which make it very difficult to carry coolers and beach chairs).
We recommend you to do this trail with a guide as it is forbidden to park on the highway and there are only a few specific spots nearby where you are allowed to park. Another option is to take a local bus as there is a bus stop close to the trail's starting point. You may take this tour with MaresiasTur, or also book a transfer with them.


Things to do in and around Maresias, Brazil
Here is a list with 16 things to do in Maresias besides going to the beach:

São Sebastião Historic Center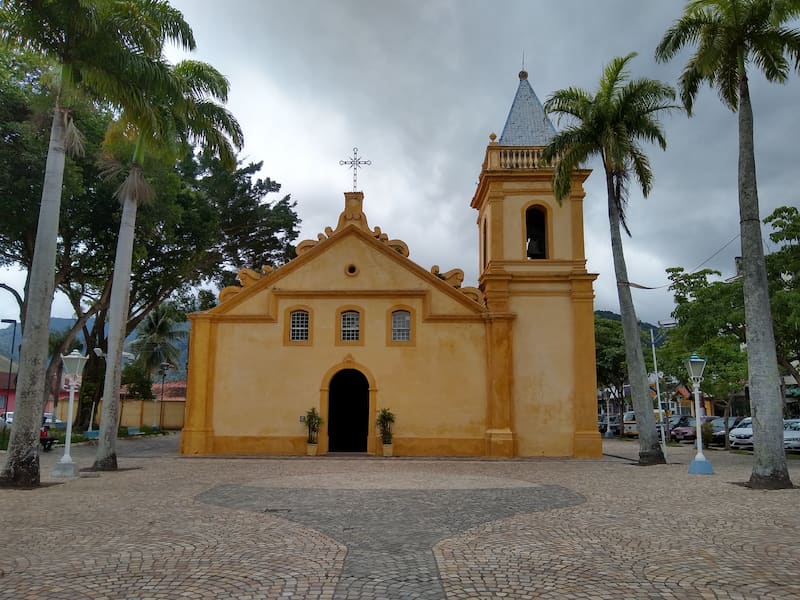 For those who love history and colonial houses, visiting the historic center of São Sebastião is a great experience. Most of the buildings in this place are dated from the 17th and 18th centuries and they have been listed as a National Historical Heritage of Brazil.
One suggestion is to explore the region on foot starting from Rua da Praia. There you will find several cool places such as Igreja Matriz (the main church), Casa da Esperança, Casa de Câmara e Cadeia, Casa das Janelas, Casa Dória and Praia Hotel.
If you want to know about history, there is a Museum of Sacred Arts. Enjoy the walk by taking a break at the restaurants, and by getting ice cream and coffee in the waterfront shops.
For an even more enriching experience, you can take this tour with a guide. We had great recommendations of Gonçalves Turismo. Visit their website for more information.


Beco da Mulher Maravilha
For urban art lovers, it is worth visiting Beco da Mulher Maravilha (Wonder Woman's Alley), located at entrance #8.
Beco was opened in 2018, through an initiative by Studio Carlito and Renata Pascucci, who helped to develop the urban art in Maresias through a project called Coloring Maresias.

Surf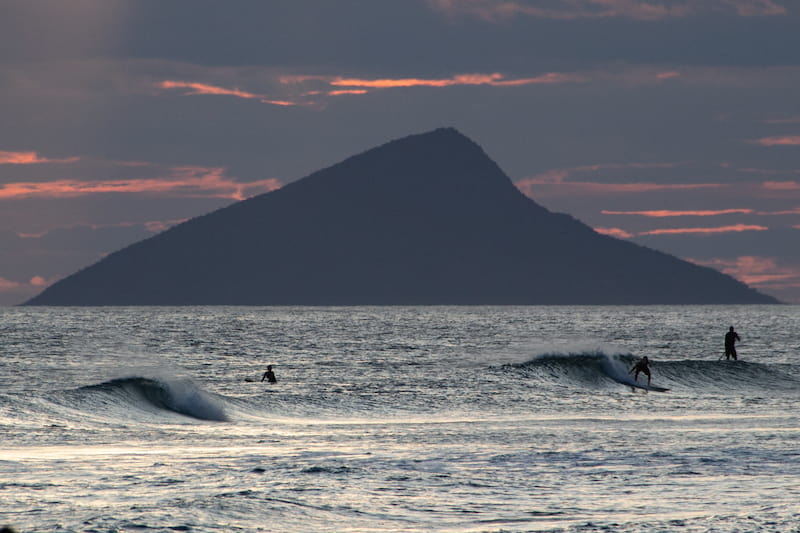 If you feel like going surfing or would like to learn how to do it, Maresias is the right place! It is very easy to rent boards and to find classes here. This is your chance to take a surf lesson on the beach that hosts international surfing championships.

Bike tour to Poço do Caetano and Canto do Moreira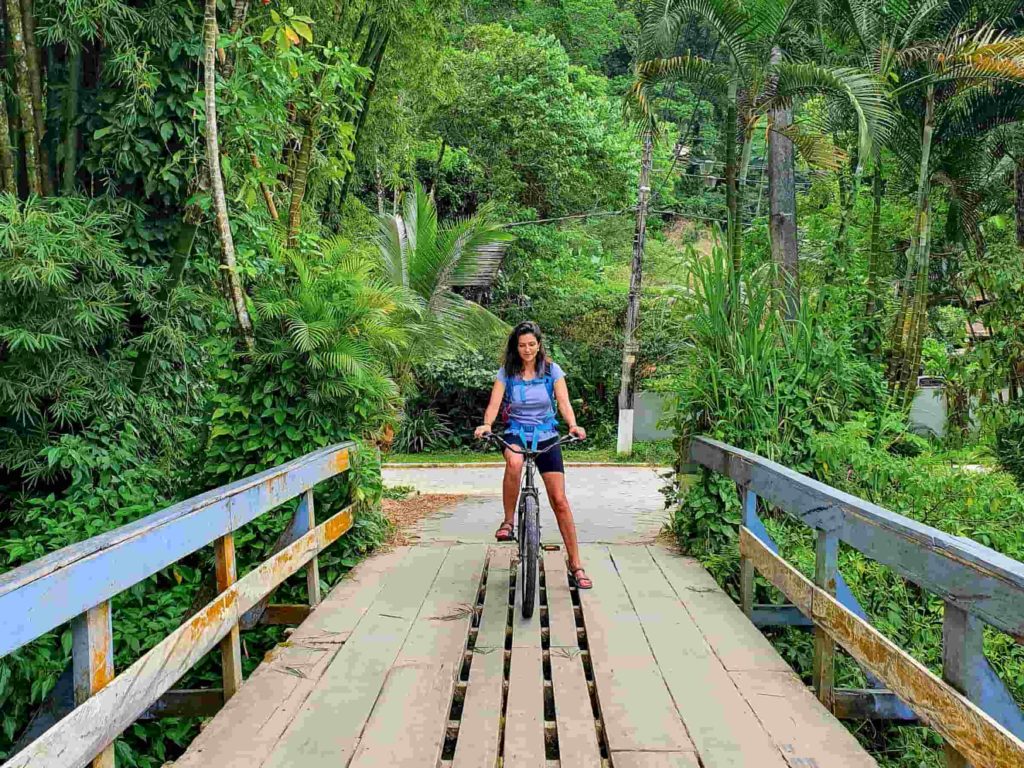 This is a great option to explore the city as the bike tour allows you to get to know the neighborhoods, the caiçara culture, some wells and natural pools.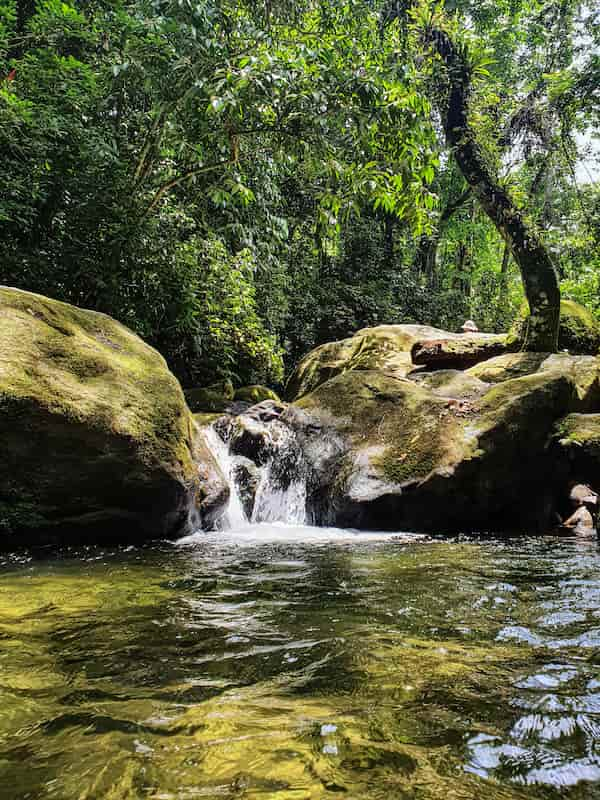 The first stop is Poço do Caetano which is part of the Serra do Mar State Park. A super cool tip is that there is a cave right below the waterfall, where you can enter just by diving through it, but be careful! I do not recommend it for claustrophobic people because it is very tight and only fits 3 people.
We entered with the tour guide and for that reason we felt safe, I recommend that you do this along with a local guide as well.
Then, we cycled towards to Canto do Moreira, which is at entrance #23 and also has natural pools. It is a more reserved area that does not have many merchants and instead, it has some private properties.
The tour did last for about 3 hours and it was really cool! We did it with MaresiasTur, for more information click here: Biketour 360 – Praia de Maresias
Important: The region of São Sebastião lacks basic sanitation, which makes it unsafe to bathe in specific points. A local guide will tell you what are the appropriate spots for swimming.

Waterfalls Circuit / Ribeirão de Itu Trail in Boiçucanga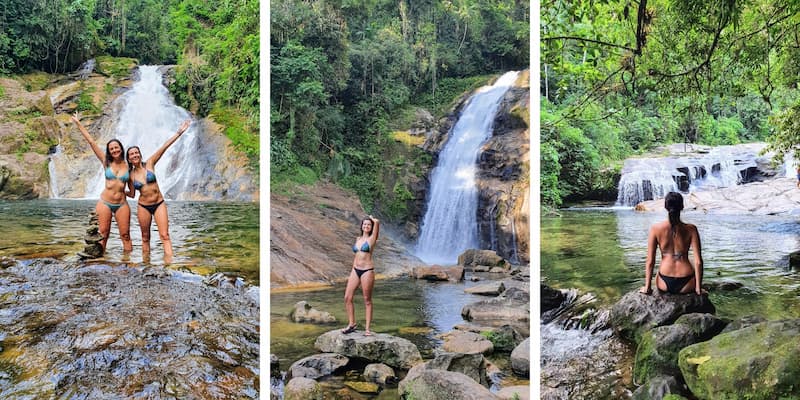 The Waterfalls circuit, also known as Ribeirão de Itu Trail, is one of the most explored circuits in São Sebastião.
An easy level trail, but with some steep parts, it is 2 km long and gives access to 3 beautiful waterfalls: Cachoeira Samambaiaçu, Cachoeira da Pedra Lisa and Cachoeira da Hidromassagem.

Waterfall Rappelling at Calhetas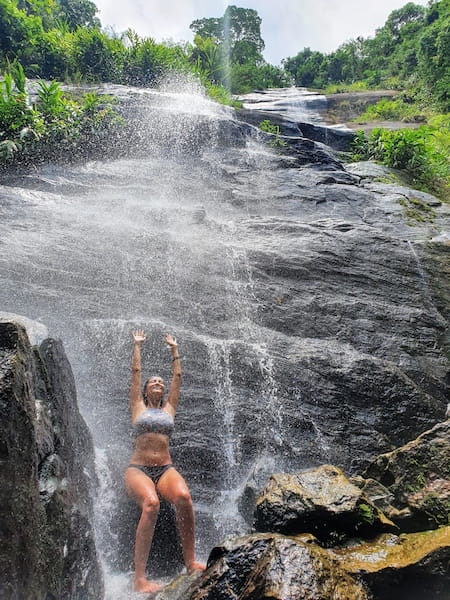 If you are going to Calhetas beach, it is also worth visiting the Calhetas waterfall! The place is beautiful and the bath is very energizing!
For those who, like me, get a little lost on trails, it's good to know that MaresiasTur offers a tour called EcoTour Praia de Calhetas, which takes you to the beach, to a viewpoint and to the waterfall.
And for those who enjoy extreme sports, here you can waterfall rappel in a 95m fall. Wow!
We were invited to do it and accepted the challenge. The adrenaline level was high, there were several challenging points during the descent, but it was worth it since the view from up there is stunning, and the feeling of overcoming that was really nice.
The MaresiasTur professionals are well prepared and made us feel safe and calm. One guide stays at the beginning of the waterfall while the other stays at the end, helping and giving you all the directions on the descent. For those who want to venture a little further, it is worth choosing to go down through the rope on the right side, because there is more water falling from there.
See more details and the tour cost: Waterfall Rappelling at Calhetas

Viewpoints Trail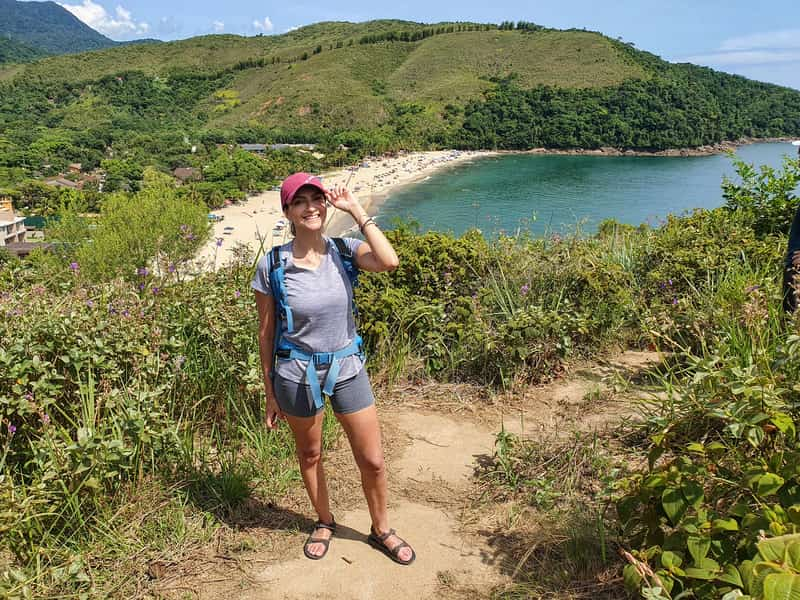 The Trilha dos Mirantes gives access to two viewpoints: the Mirante de Paúba, where you can see an exuberant landscape of Paúba Beach, and the Mirante de Maresias, where you can see the entire length of Maresias beach: from Canto da Barra to Canto do Moreira.
During the tour it is possible to see the island of Montão de Trigo and the Alcatrazes Archipelago.
The trail is easy but depending on the time you do it the sun is very strong, so we suggest that you guarantee a cap, bring water, and don't forget the sunscreen and repellent (biodegradable, preferably).

Rappelling from Pauba Viewpoint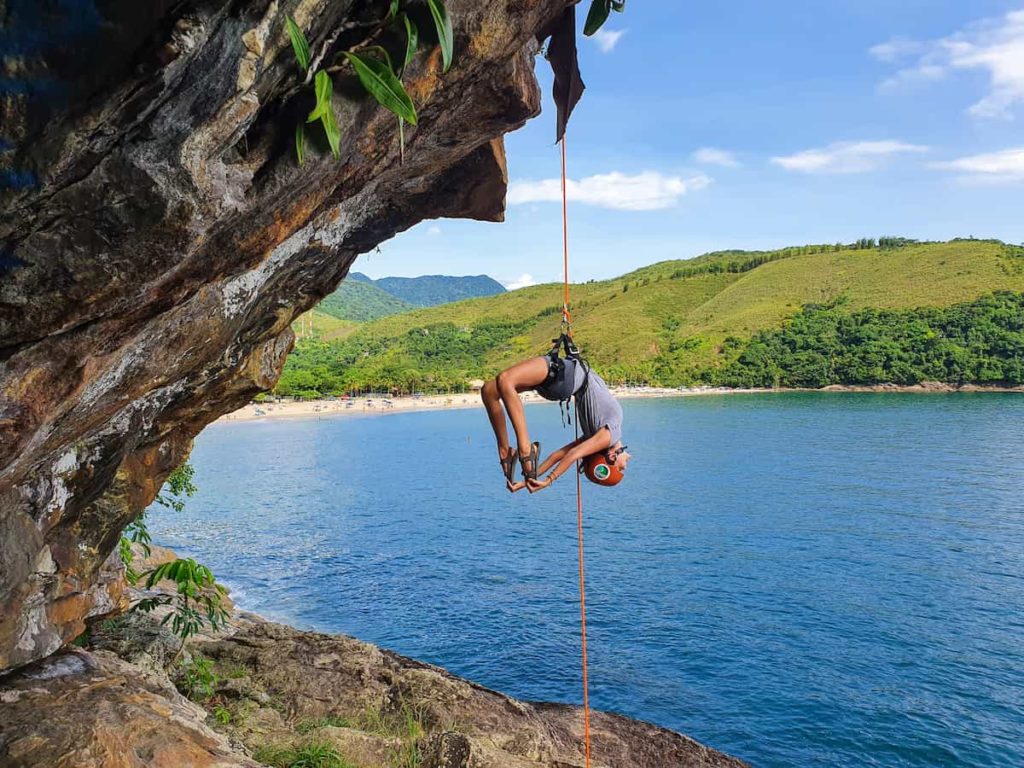 You may also rappel down from the Pauba Beach viewpoint. Here there are 10 meters of pure adrenaline in the suspended rappel, where it is possible to make fun poses for photos. It may not seem like it, but it is a beginner level activity =)
In case you want to go to the Mirantes Trail, go rappelling there and also take the bike tour, MaresiasTur has a special offer called Adventure Package.


Islands Tour
Did you know that there are several islands near Maresias that can be visited? I had no idea! It is impressive to find out how there are still so many beautiful landscapes close to the capital of São Paulo.
On the island tour offered by MaresiasTur we visited three islands:
Ilha dos Gatos
Ilha das Couves
As Ilhas
The speedboat ride starts from Boiçucanga, across the Boiçucanga River.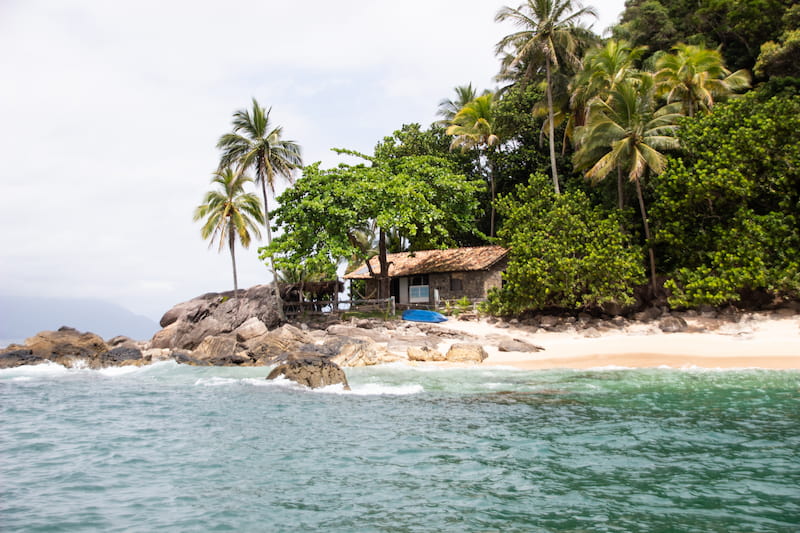 The first stop was at Ilha dos Gatos, lasting for around 20 minutes.
A curiosity about Ilha dos Gatos is that there was a concession from the navy to the Rockefellers family back in the 50s. At the time, they were afraid of the Second World War and they wanted to guarantee a refuge. Afterwards, the island was abandoned and over time the mansion was destroyed by the sea and taken over by vegetation. Nowadays, it is inhabited by a caretaker.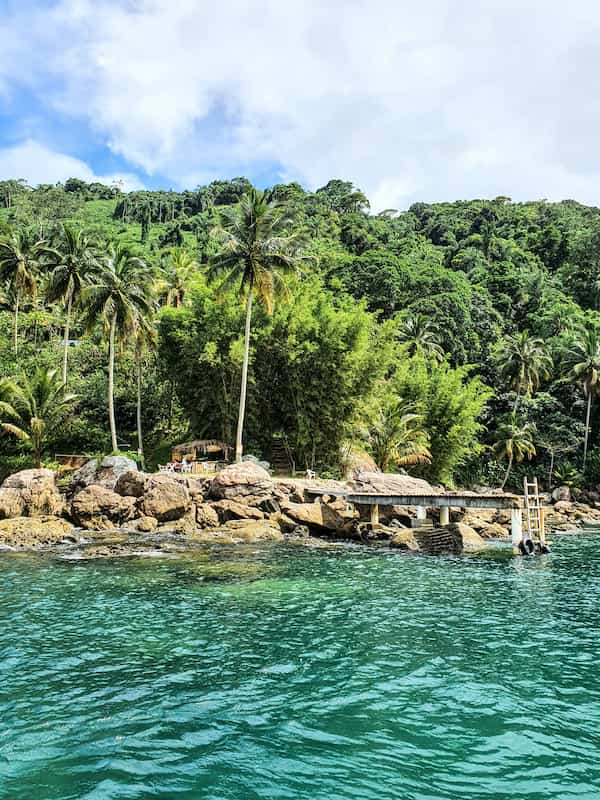 The second stop, of approximately 20 minutes, was at Ilha das Couves. Although it has the same name, this is not the same island that exists in Ubatuba.
Ilha das Couves from São Sebastião is a private island, leased to a couple who explore the island in a sustainable way. Among their sustainable initiatives there are: a system of permaculture, capture of solar energy, ecological bathroom, composting, and recycling.
There is a fee to spend the day on the island and enjoy some trails, but the coolest thing is that it is also possible to sleep there! You can opt for camping or to rent a rustic cabin.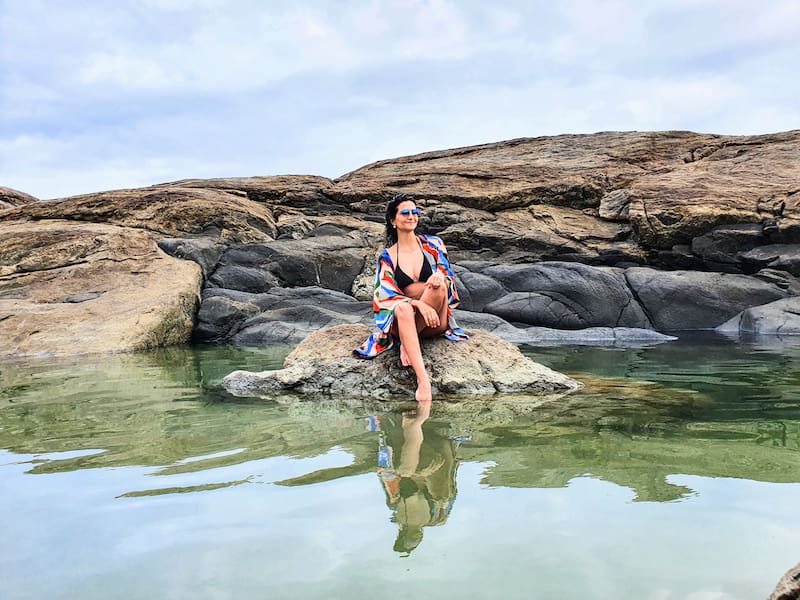 The last stop was at As Ilhas which means "The Islands", although it is only one single island.
We spent approximately 1h30 there, being able to enjoy the afternoon by walking on the beach, on the rocks and swimming in the calm waters. Ah, you can find snacks and drinks to purchase here.

Montão de Trigo Island
Montão do Trigo Island is composed by rock formations over 150 million years old and it is full of caves and burrows. They say that it is possible to see dolphins, turtles and even penguins from there. The island is located between Bertioga and the municipality of São Sebastião, approximately 14 km from the coast of São Paulo.
It is estimated that today 40 to 60 people live on the island, and the interesting thing is that they are all from the same family. To live in Montão de Trigo, you must have been born there or have been married to a native.
With a little structure and no electricity, the island has a school and a nurse who provides services during the week. Residents live on artisanal fishing and small handicrafts. It is possible to go diving, fishing and even to have lunch with the caiçaras. Unfortunately, we were unable to visit it this time, but it is already on the list for my next trip to the coast.
The tour to Montão do Trigo is operated by Rene, it leaves around 9 am and returns at 3 pm. The price is about R$ 200 depending on the number of people. You can contact him through Instagram @rene_dive or via WhatsApp + 55 12 99165-2827 for more information.

Alcatrazes Archipelago
If you love scuba diving or birdwatching, the Alcatrazes Archipelago is an unmissable attraction in Maresias.
To have an idea of how amazing Alcatrazes is and why it is known as "The Brazilian Galapagos", here are some data from ICMBio about its biodiversity:
the largest breeding site for seabirds on the Brazilian coast;
It has about 100 species of birds and a population of approximately 10,000;
There are around 1,300 species of fauna and flora, 93 of which are at risk of extinction;
259 species of fish are protected there, including groupers, hammerhead sharks, and manta rays.

Protected since 1967 by the Tupinambás Ecological Station, and since 2016 by the Alcatrazes Archipelago Wildlife Refuge, this was once a training area for the navy and it was released for diving on December 16, 2018, and today it is the second largest integral conservation unit of the Brazilian Navy after the Abrolhos National Marine Park. With this information, you can already have an idea of how amazing it is, right?
To visit the archipelago, it is necessary to leave early, and the exit points are from Ilhabela or São Sebastião. The navigation takes about 3 hours and visiting Alcatrazes is allowed only by companies authorized by ICMBio and takes place from Wednesday to Sunday, from 8 am to 4 pm.
Since this is an attraction that aims to conserve the place, it is not possible to disembark on any of the islands of the archipelago, so the divers shall remain all the time either in the water or on the boat.
For more information about the Alcatrazes Archipelago, check it out on our complete guide.


Other options
Sunset: Watch the sunset from entrance # 10 of Maresias beach
Maresias Viewpoint: there is another viewpoint near Canto do Moreira. Its access is via the highway towards Boiçucanga.
Paragliding: You can overlook Cambury and Boiçucanga beaches
Recreational diving: Diving off the beach
Tour Caiçara Route: An immersion in the caiçara culture that includes chatting with the locals, a boat ride and a visit to Ilha dos Gatos
Looking for more Maresias Tour Packages? Click here, MaresiasTur.


Things to do in Maresias at night
Sirena
If you like electronic music, you have certainly heard of Club Sirena Maresias. Sirena has already been awarded as the 9th best club in the world, and also as the 2nd best Open Air Club in the world! The house is a meeting point for many beautiful and cool people, and it has been the stage for great DJs like Fatboy Slim, Carl Cox, Tiesto and Bob Sinclar.

Santo Gole
If you prefer bars and restaurants, Santo Gole is a meeting point for friends, beautiful people, live music, cold beer and good drinks. With a very diverse menu, it is a bar that looks like a nightclub.

Os Alemão
Os Alemão is a bar and restaurant in front of Maresias beach. It is a comfortable, well-ventilated place with a menu rich in fish and seafood. And of course, it has several drink options, from caipirinhas to beers.

Where to stay in Maresias

Casa Ka
If you have been following LMTM for a while, you already know that we highly value accommodations with sustainable initiatives, and that is why we decided to check Casa Ka out. This guest house was highly recommended for its good practices that consider the environment and local communities.
Right at the check-in, Jacqueline, the inn's manager, explained about the waste segregation there, and for the first time in my life I saw a guesthouse advising guests about recyclable waste generated in the room. Jacqueline mentioned that if we had packaging to dispose of, we just had to leave it separated in some corner of the room as their employees are already instructed to give its correct destination, and reinforced that we couldn't mix it with the bathroom waste.
Here are some of their initiatives: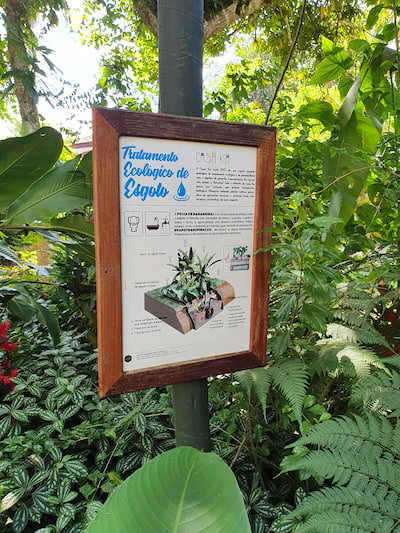 All sewage generated is treated locally, with biodigesters and an evapotranspiration pit.
Bathroom trash with bags made of newspaper instead of plastic bags.
They prioritize the hiring of local labor and services.
When cleaning, they use biodegradable laundry and dishwashing detergent.
They separate recyclable waste and take it to a private cooperative to make sure it gets to its right destination.
In addition to being super comfortable and beautiful, Casa Ka is in the middle of the Atlantic forest, in Canto do Moreira (ideal area for those who are driving since it is further away from the center), and with easy access to the beach.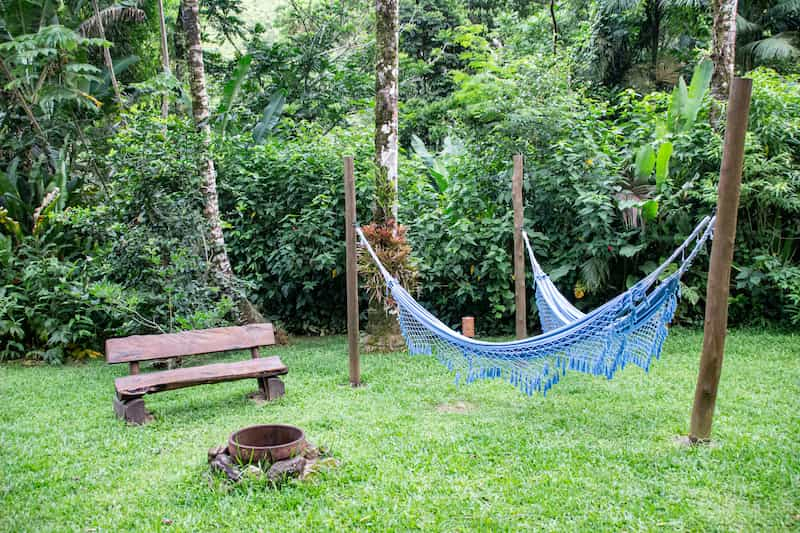 It also has a common area integrated with nature, with rustic decor, deck with sunbeds, hammocks, and even massage services at the spa. It is a very special place.
They also offer bicycles, Stand Up Paddle boards, snorkeling equipment and other things to the guests.

Pousada Azul da Cor do Mar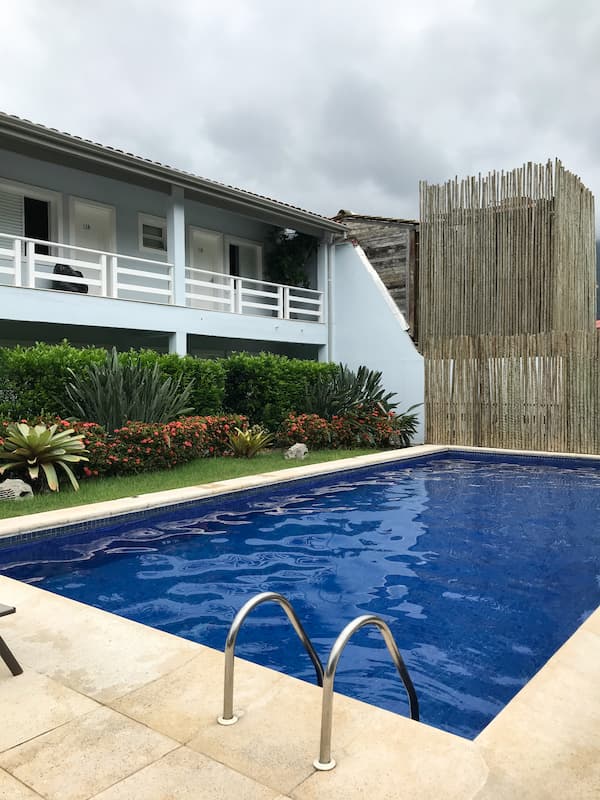 If you prefer to stay closer to the hustle and bustle, I recommend the Pousada Azul da Cor do Mar. It is located right in front of Bar dos Alemão, close to the beach, restaurants and the commercial center of Maresias. From there you can do everything on foot. Breakfast is well served and the hotel has a nice pool.

Caiçara Hostel
If you are looking for a hostel in Maresias to socialize and stay in a good location, the Hostel Caiçara is a good choice. They have private rooms, mixed and female shared rooms.
For those who are traveling to Maresias by bus, there is a bus ticket store literally above the Hostel, which facilitates the purchase of tickets, so you do not need to pay the web fee. The bus stop is just a few steps away.
In addition, the MaresiasTur agency is inside the Hostel, and all of their tours leave from here. There is a really good Bakery nearby, only a block away, so it's also easy to get a nice breakfast or snack.

You can find more accommodation options in Maresias here:
What to pack for Maresias
Some items will contribute to your trip:
Sunscreen and repellent (biodegradable, preferably)
A balm for insect bites
Cap or hat (must-have items on the list)
Sunglasses
Swimming suit
Flip-flops
Hiking sandals
Long sleeve t-shirt with sun protection
Sustainable Tourism in Maresias, Brazil
You have probably noticed that Maresias is a nature destination, right ?! How about visiting this paradise as a #ResponsibleTraveller, avoiding negative impacts during your trip?
Here are some tips for you to practice a sustainable tourism in Maresias:
Avoid generating waste. Although the municipality has waste segregation, there are several reports that it does not work well.
Do not throw garbage away on the trails or on the beach, and if you can, collect those that you may find on the way (this includes cigarette butts, although they are small, they are great villains of the oceans).
Avoid using any chemical products in the body when entering waterfalls and wells. These products can contaminate groundwater, harm the environment and affect the water of those who do not yet have access to treated water.

Do you have any more questions about Maresias? Comment here =)

Note: Our trip was sponsored by Assimptur and the Association of Inns, Hotels, Bars and Restaurants of Maresias. Our accommodation at Casa Ka, Pousada Azul da Cor do Mar, and Hostel Caiçara were complementary and so were the tours operated by MaresiasTur. But don't worry, all opinions expressed here are sincere and reflect our experiences.


SAVE THIS PIN! Did you like this post? Save this pin and check it out again at another time 😉
Read more: